---
The Perfect Game?
This page shows the moves of a game of checkers, with a diagram for every move, to make it easy to read even without a checkerboard handy to play the game.
The game shown is the infamous game which was repeated, move for move, in 21 out of the 40 games of a match between James Wyllie and Robert Martins, both of whom were considered to be the world champions of draughts at different times.
As I do not pretend to be an expert on Checkers, while there is commentary accompanying the moves, this commentary is rather banal.
GLASGOW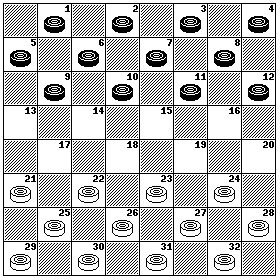 Here is the board as it is set up at the beginning of every game of Checkers.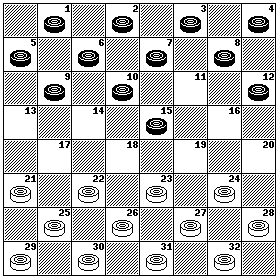 11-15

This first move, called "Old Faithful", is the most popular starting move in Checkers, as it is considered to be the best one, when players are free to choose their own moves from the beginning.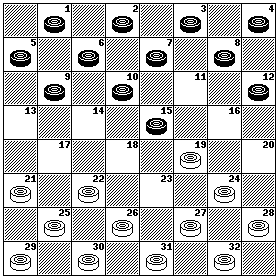 23-19

And this is the most popular reply. The move 23-18, which threatens the piece moved, forms part of the Cross opening, and is also a valid and popular move.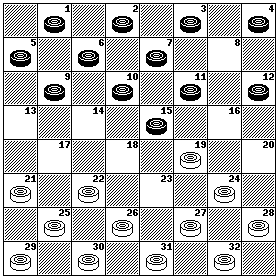 8-11

This moves a piece forwards; several other moves later on in this game will illustrate that when there is a choice of men to move forwards, preference is given to moving the rearmost men.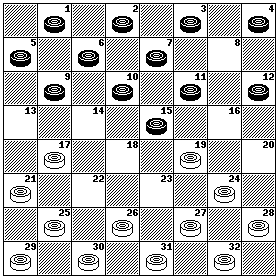 22-17

Here, a man is moved forwards so as to open up the front rank, and one is chosen that is out of the way of immediate possible capture.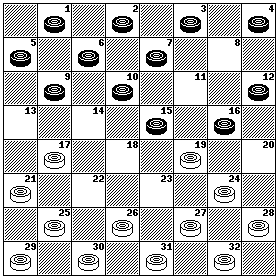 11-16

Since nothing has been moved to square 18, it is safe to advance this man further. This move is the final and thus defining move of the Glasgow opening.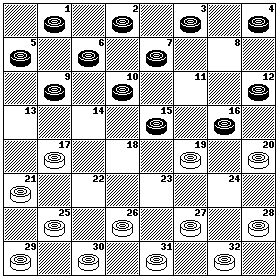 24-20

But now he is under threat, as a man is moved to threaten it with the edge of the board safely behind it. However, it may move away from that spot by capturing, and, indeed, Black will have a choice of captures on the next move.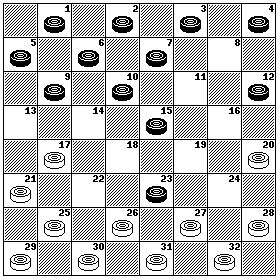 16-23

The capture moving away from the threat is chosen; note that this is an exchange, though, as that piece will still be captured in turn.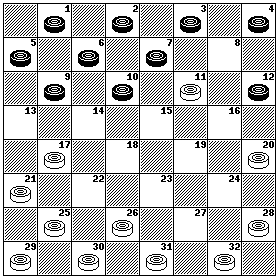 27-11

The exchange appears unequal, as two pieces are captured,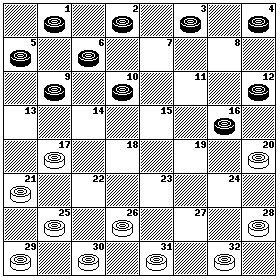 7-16

but the capturing piece is in turn captured, making the exchange even at this point.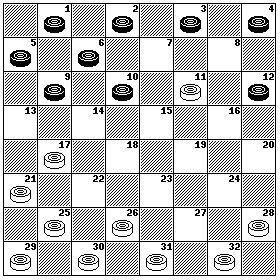 20-11

This move, capturing another man, is, of course, forced.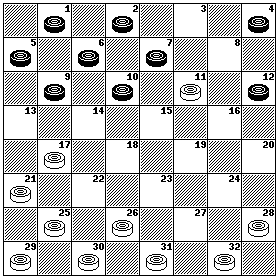 3- 7

White's advanced man, though, will inevitably be captured after this move.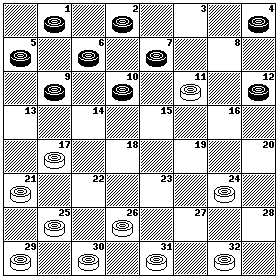 28-24

Thus, no time is wasted moving it again, and instead White advances a man.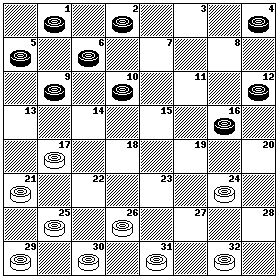 7-16

The capture takes place, as it is forced.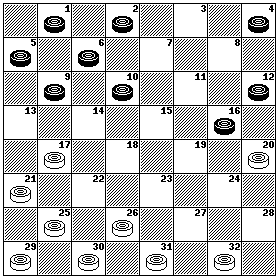 24-20

White advances a man, making a slight threat against the Black man on square 16.

16-19

Thus, it is advanced out of harm's way.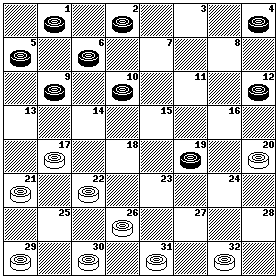 25-22

Another White man is advanced.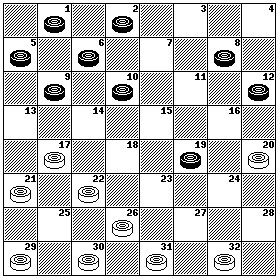 4- 8

And Black also advances a man.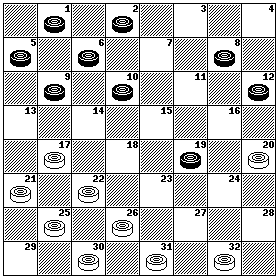 29-25

More advancing, but the White man on 22 is also supported.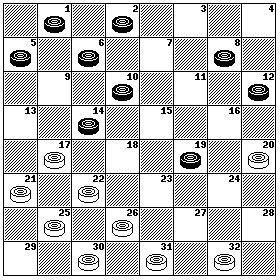 9-14

Having the Black piece on 10 behind him, this Black man can advance.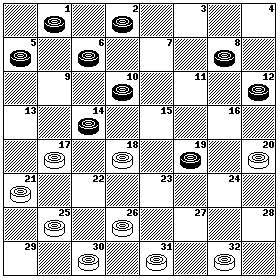 22-18

With this move, White appears to be sacrificing a man.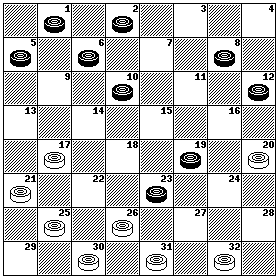 14-23

And this is the capture forced by that move.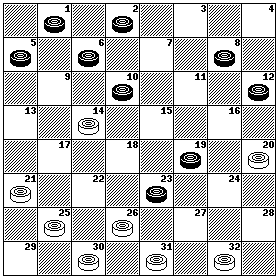 17-14

This move appears to force an even exchange of men.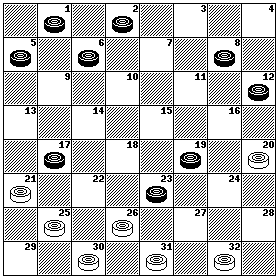 10-17

Here is the capture it forces.

21-14

And the reply, which is also forced.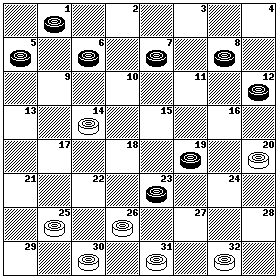 2- 7

Now, Black advances one of his rearmost men.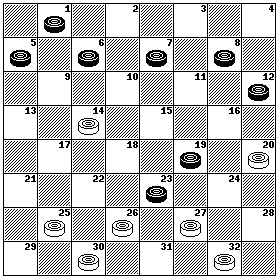 31-27

And White threatens to capture a Black man which seems to have no escape.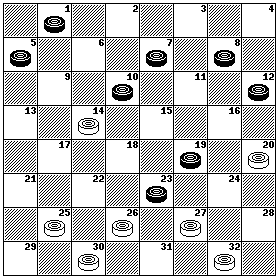 6-10

Black threatens to capture a White man in turn.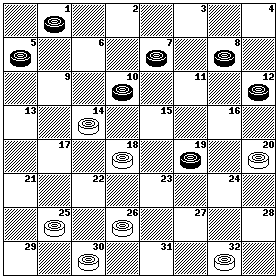 27-18

So the forced capture by White is made,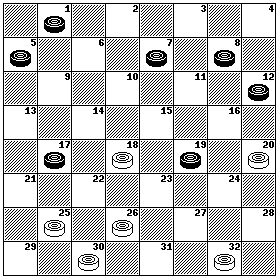 10-17

and then the forced capture by Black is made.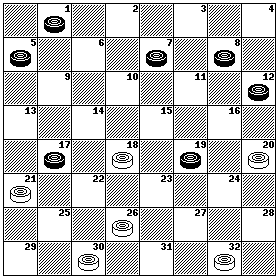 25-21

But now White has another capture, making up for what appeared to be the loss of the earlier exchange.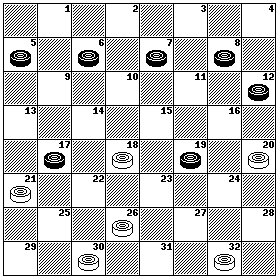 1- 6

Black, again, advances one of his rearmost men.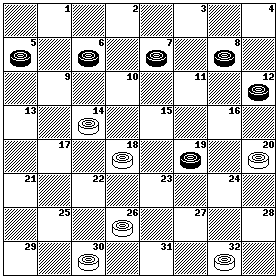 21-14

The capture is made.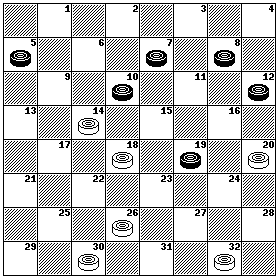 6-10

Now Black threatens White with inevitable capture.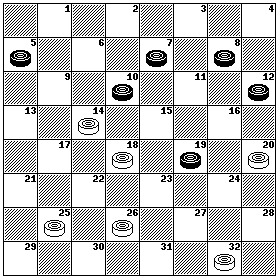 30-25

And so White advances one of his rearmost men.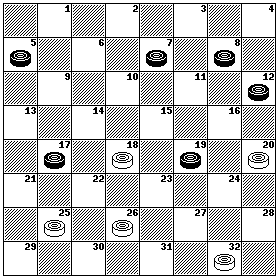 10-17

The capture is made.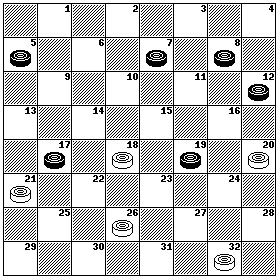 25-21

But the capturing man has moved into a position where he faces the same inevitable fate from this threat.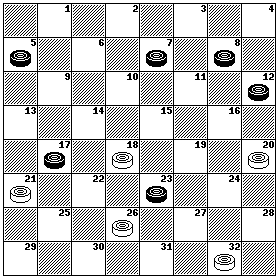 19-23

This time, Black does respond, by giving White a choice of captures, the one offered being necessary to avoid losing a man.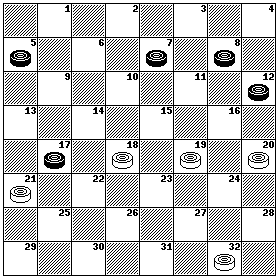 26-19

Thus, White first chooses the capture that defends his own piece.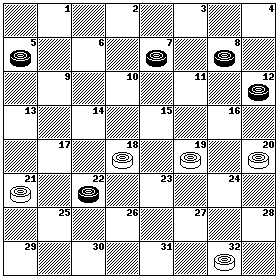 17-22

And this allows the other Black man to slip past the threat, thus having a clear path to the end of the board to become crowned a King.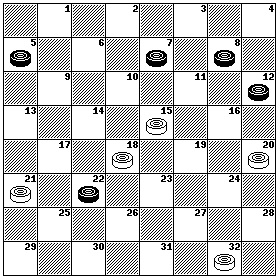 19-15

White advances a man to where it has a man behind it.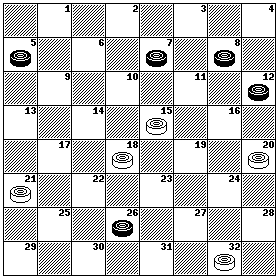 22-26

Black advances his advanced man.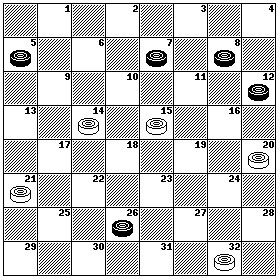 18-14

Now, as nothing has approached the White man advanced previously, the man behind it is advanced.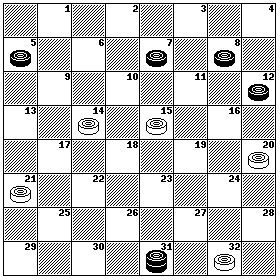 26-31

Black crowns his King.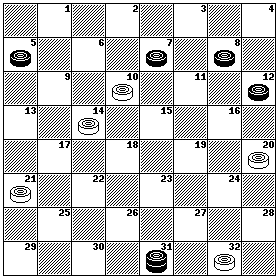 15-10

White's two men work together to allow one of them to advance safely past the Black man on 7.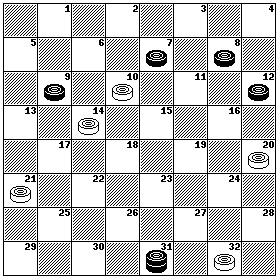 5- 9

The supporting man is threatened, but White has a choice of captures.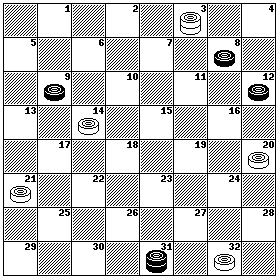 10- 3

So the one is chosen that allows White to crown his King.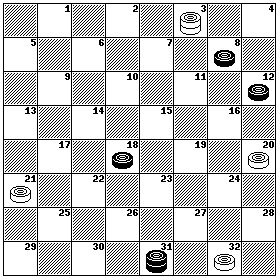 9-18

And Black is left to take the remaining capture.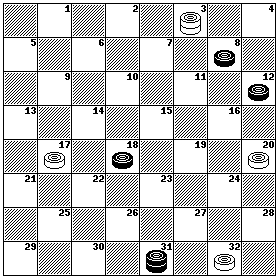 21-17

Another White man now has a free path to the end of the board, and is advanced.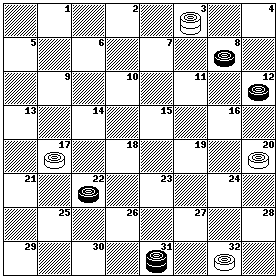 18-22

Similarly, a Black man with a free path is advanced.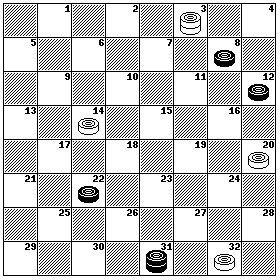 17-14

Another step for White towards having a second King.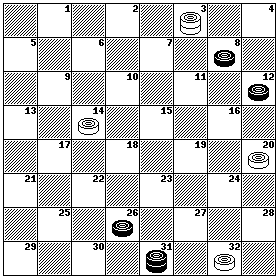 22-26

And a similar step for Black.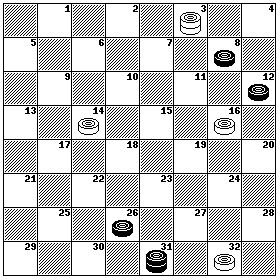 20-16

This appears to sacrifice a man, but it then leaves the Black man on 8 vulnerable to capture.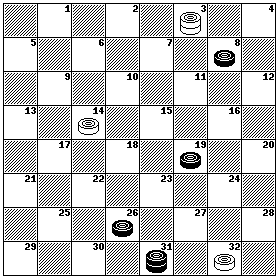 12-19

And so the forced capture is made.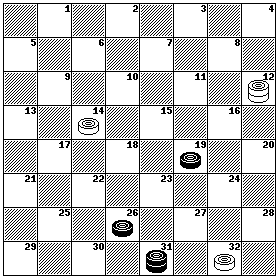 3-12

And the resulting one.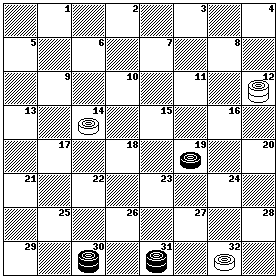 26-30

Black crowns his second King.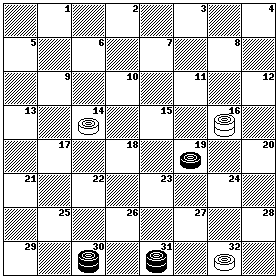 12-16

As this move ensures White's man on 32 will be able to become a King, the game is ended at this point as a draw.
---